---
Copper Pipe Manufacturers, Suppliers, Stockist in India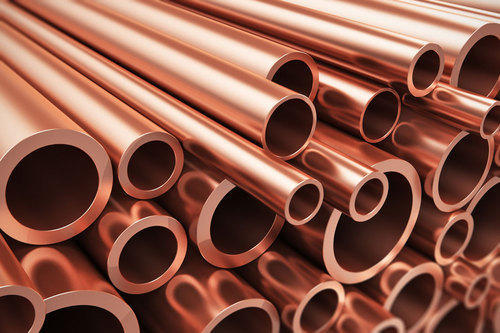 Sachiya Steel International Is One Of The Leading Manufacturer And Exporter Of High Quality Copper Pipes Manufacturer in India, which comes in a variety of sizes and shapes to meet the needs of your requirements. Sachiya Steel International give you the best deals on a wide variety of 15mm Copper Pipes in both large and small quantities around the world. We are one of the famous brands engaged in the manufacturing, supplying, and exporting of a high-quality range of Copper Pipe. Our company is interested in providing a high-quality collection of Copper Pipe to meet the diverse needs of customers. Copper Pipe are one of the products that we provide to meet the ever-increasing demands of our customers.
ASTM B280 Copper Pipe Specification
Copper Alloy Pipe Specification

ASTM B280 ASME SB280 / ASTM B68 ASME SB68

Sizes

Copper Round Pipe
Wall thickness: 0.2mm~120mm


Outside Diameter: 2mm~910mm

Copper Square Pipe


Wall thickness: 0.2mm~120mm




Size: 2mm*2mm~1016mm*1016mm

Copper Rectangular Pipe


Wall thickness: 0.2mm~910mm




Size: 2mm*4mm~1016mm*1219mm

Copper Pipe Schedule

SCH5, SCH10, SCH40, STD, SCH80, SCH160

Copper Pipe Application

The Copper Pipe are made of pure electrolysis copper.

They are precise in size and smooth on surface. Besides,

Thus, they are widely used for heat exchangers, radiators, coolers, electro-heat-up pipe, Air conditioner and refrigerators.

Copper straight pipes can be used for oil transportation, brake pipes, water pipes and gas pipes for construction.

Copper Pipe are of good heat conductibility.

Test

Hardness Test

Mechanical Testing Such as Tensile of Area

Pitting Resistance Test

Chemical Analysis – Spectro Analysis

Intergranular Corrosion (IGC) Test

Flattening Test

Micro and Macro Test

Positive Material Identification – PMI Testing

Flaring Test

Copper Welded Pipe size

5.0 mm – 1219.2 mm

Our Presence

USA, Canada, Australia, UK, Malaysia, Poland, Iran, Italy, Singapore, UAE

Specialized in

Large Diameter Copper Alloy Pipe

Copper Alloy EFW Pipe size

5.0 mm – 1219.2 mm

Copper Pipe Length

Single Random, Double Random & Cut Length.

Material Test Certificates (MTC)

Material Test Certificates (MTC) as per EN 10204 3.1 and EN 10204 3.2

Origin

European, Japanese, Korean, US, Russian, Indian (Strictly No Chinese Material)

Marking

All Copper Pipes are marked as follows: Standard, Grade, OD, Thickness, Length, Heat No. (Or according to the customer's request.)

Copper Pipe Form

Hollow, Square, Round, Rectangular , Straight Pipes, Hydraulic Etc.

Copper Pipe Hardness

1/16 hard, 1/8 hard, 3/8 hard, 1/4 hard, 1/2hard, full hard, soft etc

Copper Pipe Material

T1, T2, C10100, C10200, C10300, C10400, C10500, C10700, C10800, C10910, C10920, TP1, TP2, C10930, C11000, C11300, C11400, C11500, C11600, C12000, C12200, C12300, TU1, TU2, C12500, C14200, C14420, C14500, C14510, C14520, C14530, C17200, C19200, C21000, C23000, C26000, C27000, C27400, C28000, C33000, C33200, C37000, C44300, C44400, C44500, C60800, C63020, C65500, C68700, C70400, C70600, C70620, C71000, C71500, C71520, C71640, C72200, etc.

Copper Pipe Finish

mill, polished, bright, oiled, hair line, brush, mirror, sand blast, or as required.

Copper Alloy Pipe End

Plain End, Beveled End, Treaded.

Copper Alloy Seamless Pipe size

4 to 219mm W. T.: 0.5 to 20mm

We can also cut, thread, and groove Copper Pipes to meet your specifications.
| Monel Pipe Types | Out diameter | Wall thickness | Length |
| --- | --- | --- | --- |
| Copper Welded Pipe (in Stock + Custom Sizes) | 5.0mm ~ 1219.2mm | 1.0 ~ 15.0 mm | Upto 6 Meters |
| NB Sizes (in stock) | 1/8" ~ 8" | SCH 5 / SCH 10 / SCH 40 / SCH 80 / SCH 160 | Upto 6 Meters |
| Copper Seamless Pipe (Custom Sizes) | 5.0mm ~ 203.2mm | As per requirement | Upto 6 Meters |
copper pipe price
Copper Pipe Price

Origin

Price in INR




(per kg)

Price in USD




(per kg)

Price in Euro




(per kg)

Others

Copper Pipe Price in UK / Europe

European

Rs 740/-

$10

€8

Fix Length

Copper Pipe Price in Japan

Japanese

Rs 540/-

$7

€6

Fix Length

Copper Pipe Price in India

Indian

Rs 300/-

$4

€2

Cut to Size

Copper Pipe Price in the USA

USA

Rs 900/-

$11

€8

Fix Length
Copper Pipes Chemical Composition
Standard

Copper NO.

Chemical Composition

Mechanical Properties

CU%

P%

Temper

Tensile strength (Mpa)

Elongation (%)

Average Grain Size (mm)

ASTM




B280/68

C12200

>99.9

0.015 to 0.040

>60

>205

>40

>0.040

>50

>245
Copper Pipes Client Projects
| Product supplied | City |
| --- | --- |
| Copper Pipes for Oil and Gas Industry | Bareilly, Uttar Pradesh |
| Copper Pipes supplied to Power Plant | Mumbai, Maharashtra |
| Copper Pipes supply for Petrochemical | Tamil Nadu, Chennai |
| Indigo Copper Pipe & Tube supplied to Chemical industry | Raipur, Chhattisgarh |
Features of Copper Pipe
724 psi maximum working pressure

Copper construction provides durability

150°F maximum working temperature

Copper Pipe are Great for residential water-supply lines

Corrosion resistant for long-lasting, maintenance-free use

Copper Pipe Will not burn or support combustion for safety

Type K Copper Pipe or thick-wall piping is ideally used between water mains and meters for heavy-duty vacuum-pump lines and underground lines

Copper Pipe is Easy to join and install
Copper Pipe Equivalent grades
BS EN NUMBER

TITLE

NEAREST OLD BS EQUIVALENT

Copper pipes

1057

Seamless, round pipes for water and gas in sanitary and heating applications

2871 Pt1

12449

Seamless, round pipes for general purposes

2871 Pt2

12450

Seamless, round capillary pipes

12451

Seamless, round pipes for heat exchangers

2871 Pt3

12452

Rolled, finned, seamless pipes for heat exchangers

–

12735

Seamless, round pipes for air conditioning and refrigeration Part 1: pipes for piping systems – Part 2: pipes for equipment

–

13348

Seamless, round copper pipes for medical gases

–

13349

Pre-insulated copper pipes with solid covering

–
Copper Pipe Sizes Available for Plumbing
Nominal
size
Outside diameter
(OD)
[in (mm)]
Inside diameter (ID)
[in (mm)]
Type K
Type L
Type M
​1⁄4
3⁄8 (9.5)
0.305 (7.747)
0.315 (8.001)
​3⁄8
1⁄2 (12.7)
0.402 (10.211)
0.430 (10.922)
0.450 (11.430)
​1⁄2
5⁄8 (15.875)
0.528 (13.411)
0.545 (13.843)
0.569 (14.453)
​5⁄8
3⁄4 (19.05)
0.652 (16.561)
0.668 (16.967)
0.690 (17.526)
​3⁄4
7⁄8 (22.225)
0.745 (18.923)
0.785 (19.939)
0.811 (20.599)
1
1 1⁄8 (28.575)
0.995 (25.273)
1.025 (26.035)
1.055 (26.797)
1​1⁄4
1 3⁄8 (34.925)
1.245 (31.623)
1.265 (32.131)
1.291 (32.791)
1​1⁄2
1 5⁄8 (41.275)
1.481 (37.617)
1.505 (38.227)
1.527 (38.786)
2
2 1⁄8 (53.975)
1.959 (49.759)
1.985 (50.419)
2.009 (51.029)
2​1⁄2
2 5⁄8 (66.675)
2.435 (61.849)
2.465 (62.611)
2.495 (63.373)
3
3 1⁄8 (79.375)
2.907 (73.838)
2.945 (74.803)
2.981 (75.717)
ASME SB68 Copper Pipe Size
| Wall | Sizes ( O.D.) |
| --- | --- |
| .010 | 1/16″ , 1/8″ , 3/16″ |
| .020 | 1/16″ , 1/8″ , 3/16″ , 1/4″ , 5/16″ , 3/8″ |
| .012 | 1/8″ |
| .016 | 1/8″ , 3/16″ |
| .028 | 1/8″ , 3/16″ , 1/4″ , 5/16″ , 3/8″ , 1/2″ , 3/4″ , 1″ , 1 1/2″ , 2″ |
| .035 | 1/8″ , 3/16″ , 1/4″ , 5/16″ , 3/8″ , 7/16″ , 1/2″ , 16″ , 5/8″ , 3/4″ , 7/8″ , 1″ , 1 1/4″ , 1 1/2″ , 1 5/8″ , 2″ , 2 1/4″ |
| .049 | 3/16″ , 1/4″ , 5/16″ , 3/8″ , 1/2″ , 16″ , 5/8″ , 3/4″ , 7/8″ , 1″ , 1 1/8″ , 1 1/4″ , 1 1/2″ , 1 5/8″ , 2″ , 2 1/4″ |
| .065 | 1/4″ , 5/16″ , 3/8″ , 1/2″ , 16″ , 5/8″ , 3/4″ , 7/8″ , 1″ , 1 1/4″ , 1 1/2″ , 1 5/8″ , 1 3/4″ , 2″ , 2 1/2″ , 3″ |
| .083 | 1/4″ , 3/8″ , 1/2″ , 5/8″ , 3/4″ , 7/8″ , 1″ , 1 1/4″ , 1 1/2″ , 1 5/8″ , 1 7/8″ , 2″ , 2 1/2″ ,3″ |
| .095 | 1/2″ , 5/8″ , 1″ , 1 1/4″ , 1 1/2″ , 2″ |
| .109 | 1/2″ , 3/4″ , 1″ , 1 1/4″ , 1 1/2″ , 2″ |
| .120 | 1/2″ , 5/8″ , 3/4″ , 7/8″ , 1″ , 1 1/4″ , 1 1/2″ , 2″ , 2 1/4″ , 2 1/2″ , 3″ |
| .125 | 3/4″ , 1″ , 1 1/4″ , 1 1/2″ , 2″ , 3″ , 3 1/4″ |
| .134 | 1″ |
| .250 | 3″ |
| .375 | 3 1/2″ |
---