Sachiya Steel International is one of the Leading Manufacturer And Exporter Of High Quality Alloy 17-4ph Screw, which is capable of being hardened up to approximately 44 RC when heat treated to condition H900. Strength and toughness desired in Alloy 17-4 PH Hex Head Screws can be manipulated by temperate range in the heat treatment process. Alloy 17-4 PH Socket Head Cap Screws is a precipitation hardening martensitic stainless steel with Cu and Nb / Cb additions, where high strength is maintained to approximately 600 Degree F (316 Degree C). Usually, Alloy 17-4 PH Socket Set Screws is kept at elevated temperatures for an extended time frame, where this allows precipitation to take place.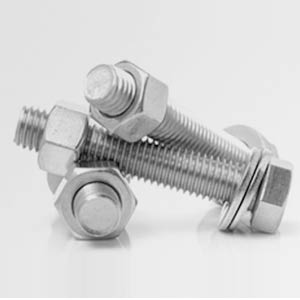 Alloy 17-4 PH Anchors Screws is widely used in the aerospace, chemical, petrochemical, food processing, paper and general metalworking industries. Alloy 17-4 PH Blind Rivet Screws can be heat treated to a variety of temperatures to develop a wide range of properties.
Mechanical properties of Alloy 17-4 PH Concrete Screws can be optimized with heat treatment, where very high yield strength up to 1100 MPa – 1300 MPa (160 ksi – 190 ksi) can be achieved. Alloy 17-4 PH Threaded Screws is a precipitation harden able, martensitic stainless steel that delivers an excellent combination of oxidation and corrosion resistance, and is comparable to 304 in most conditions or environments. Alloy 17-4 PH Steel Shoulder Screws is chromium – nickel – copper precipitation hardening stainless steel used for applications requiring high strength and moderate level of corrosion resistance.
Alloy 17-4ph Screw Specifications

Specifications
:

ASTM A 479 ASME SA 479

Standard
:

IS, ASTM, BS and all International Standards

Length
:

3 mm to 17-4ph0 mm

Size
:

M3 – M56 | 3/6″ to 2″ | Custom Sizes

Type
:

Hex Head Screw, Socket Head Cap Screw, Socket Set Screws, Anchor Screw, Blind Rivet, Concrete screw, Threaded Screw, Steel Shoulder Screw, Panel Screw, Machine Screw.
SS 17-4ph Screw Chemical Composition
SS 17-4ph
Ni
C
Mo
Mn
Si
S
Cr

3.00 – 5.00

0.07

0.60

1.50

0.70

0.015

15.0 – 17.0
SS 17-4ph Screw Mechanical Properties
Density
Melting Point
Yield Strength 

(PSI)



Tensile Strength 

(PSI)

Elongation
7.8

1425 °C


170

190 

10 %
SS 17-4ph Screws Application Industries
Off-Shore Oil Drilling Companies

Power Generation

Petrochemicals

Gas Processing

Specialty Chemicals

Pharmaceuticals

Pharmaceutical Equipment

Chemical Equipment

Sea Water Equipment

Heat Exchangers

Condensers

Pulp and Paper Industry
17-4ph SS Screws Test Certificates
We at Sachiya Steel International provide Manufacturer TC (Test Certificate) in accordance to EN 1017-4ph4/3.1B, Raw Materials Certificate, 100% Radiography Test Report, Third Party Inspection Report. We also provide Standard certificates like EN 1017-4ph4 3.1 and additional requirement like. NACE MR 01075. FERRIT CONTENT as per norms if requested by clients.
• EN 1017-4ph4/3.1B,
• Raw Materials Certificate
• 100% Radiography Test Report
• Third Party Inspection Report, etc
Material Testing
We at Sachiya Steel International ensure that all our materials go through strict quality tests before dispatching them to our clients.
• Mechanical Testing Such as Tensile of Area
• Hardness Test
• Chemical Analysis – Spectro Analysis
• Positive Material Identification – PMI Testing
• Flattening Test
• Micro and Macro Test
• Pitting Resistance Test
• Flaring Test
• Intergranular Corrosion (IGC) Test
Documentation
• Commercial Invoice which includes HS Code
• Packing List including net weight and gross weight, number of boxes, Marks and Numbers
• Certificate of Origin legalized/attested by Chamber of Commerce or Embassy
• Fumigation Certificates
• Raw Material Test Reports
• Material Traceability Records
• Quality Assurance Plan (QAP)
• Heat Treatment Charts
• Test Certificates certifying NACE MR0103, NACE MR0175
• Material Test Certificates (MTC) as per EN 1017-4ph4 3.1 and EN 1017-4ph4 3.2
• Guarantee Letter
• NABL approved Laboratory Test Reports
• Welding Procedure Specification/Procedure Qualification Record, WPS/PQR
• Form A for the purposes of the Generalized System of Preferences (GSP)