Seamless Pipe Manufacturer in India
We are leading Manufacturers, Supplier, Dealers, and Exporter of Seamless Pipes in India. Our Seamless Pipes are available in different sizes, shapes, and grades. We supply these Pipes in most of the major Indian cities in more than 20 States. We Sachiya Steel International offer different types of grades like Stainless Steel Pipes, Super Duplex Steel Pipes, Duplex Steel Pipes, Carbon Steel pipes, Alloys Steel pipes, Nickel Alloys pipes, Titanium Steel pipes, Inconel Steel pipes, Aluminium pipes, etc.
When it comes to top quality in pipe solutions Look no further than India's top experts in this area. We are honored to be regarded for being one of the leading SS seamless pipe manufacturers in India . With a commitment to quality that goes back decades and our commitment to manufacturing top-quality stainless steel seamless pipes has helped set us apart from the rest of the industry. Our team of highly skilled professionals utilizes the most cutting-edge manufacturing processes to make pipes that meet the most stringent quality standards and are durable.
In India the top carbon steel and seamless steel alloy pipe producers include Jindal SAW, Maharashtra Seamless Limited, Ratnamani Pipes & Tubes and ISMT. In the case of stainless steel, based on our estimates, 90 percent of the items are imported, due to the huge costs for making in India.
TOP Seamless Pipe Manufacturers in India
Below is a list of the top high-end seamless stainless and carbon steel pipe suppliers in India. For immediate delivery or factory-priced seamless pipe please get in touch with Sachiya Steel International Private Limited. With our vast inventory of raw materials and our daily sales exceeding 100 tonnes we can give you the best price as well as lower cost of the factory directly.
| | |
| --- | --- |
| Jindal SAW Ltd | India |
| Maharashtra Seamless Ltd. | India |
| ISMT | Pune |
| Ratnamani Pipes & Tubes | India |
Seamless Tube Manufacturers in India: Pioneering the Steel Industry
India, with its rapidly growing infrastructure and industrial sectors, is home to some of the world's most renowned manufacturers in the steel industry. Among these, seamless tube manufacturers in India have made a significant mark in the global market.
Our range of alloy steel seamless pipes and hot rolled variants find application across various industries. Whether it's high temperature environments or precision applications that you require pipes for, cold drawn seamless pipes have your needs covered. Not just pipe manufacturers – we pride ourselves in offering tailored solutions tailored specifically for you with customer-centric service and continuous innovation at our core; we take pride in being among the top steel tubes manufacturers in India.! Explore our product catalogue and discover why so many businesses rely on us.
Steel Pipes and Tubes: The Backbone of Infrastructure
Whenever there's a discussion about the infrastructure of any country, steel pipes and tubes invariably take centre stage. These are the building blocks of our modern world, ensuring that water, gas, and other essential services safely reach our homes and industries. With this growing demand, steel pipes manufacturers in India have ramped up their production and technological capabilities.
Choose us as your steel tube manufacturers in India for more than just products; choose us for an exceptional experience! Our commitment to quality can be seen throughout our operations; from using advanced manufacturing processes that meet and surpass industry standards to alloy steel seamless tubes suitable for high pressure applications or hot rolled tubes suitable for structural projects – we have everything it takes to deliver outstanding services.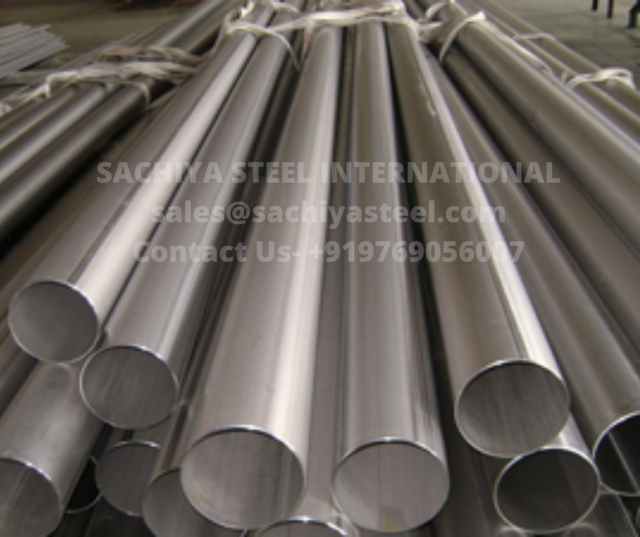 Seamless Pipes

Specifications

Schedule

SCH5, SCH10, SCH20, SCH30, SCH40, STD, SCH80, XS, SCH60, SCH80, SCH120,SCH140, SCH160, XXS

Standard

ASME/ANSI B16.11, MSS-SP-97, MSS-SP-79, JIS B2316, BS 3799

Pipes Size

1/8″NB to 24″NB & 1/4″OD TO 24″OD AND 6.35mm to 254mm OD Thickness: 0.6mm to 20mm

Type

Seamless/ erw/ welded/semi welded in round, square, rectangular, coil form, u shape and hydraulic. Pipes

Grades
Stainless Steel

ASTM / ASME 201, 202, 301, 304, 304L, 310, 310S, 316L, 316TI, 317, 317L, 321, 347, 409, 409M, 409L, 410, 410S, 420, 430, 431, 441, 444, 446, 17.4PH, 904L

Super Duplex Steel

S32750

Duplex Steel

ASTM / ASME SA 790 UNS NO S 31803 , S 32205 , S 32550 , S 32750 , S 32760.

Carbon Steel

ASTM / ASME A 335 GRP 1 , P 5 , P 9 , P 11 , P 12 , P 22 , P 23 , P 91

Alloys Steel

ASTM / ASME A 691 GRP1 CR , 1 1/4 CR , 2 1/4 CR , 5 CR , 9CR , 91.

Nickel Alloys

Nickel Alloys 200, Nickel Alloys 201

Titanium

Grade 1, Grade 4, Grade 5(Ti 6Al-4V), Grade 6(Ti 5Al-2.5Sn), Grade 7, Grade 11, Grade 12, 8Ai-1Mo-1V, Grade 9(3Al-2.5V), 6Al-6V-25n, 6Al-2Sn-4Zr-2Mo, 6Al-7Nb, Grade 23(Ti 6AL-4V ELI), Grade 5 ELI

Inconel

Inconel 600, Inconel 601, Inconel 625, Inconel 625LCF, Inconel 686, Inconel 718, Inconel 800, Inconel 825, Inconel X-750 , Inconel 690, Inconel 602, Inconel 617, Inconel 925, Inconel A-289, Inconel AL-6XN, AL-904L

Hastelloy

Hastelloy C-22, Hastelloy C-276, Hastelloy C-2000, Hastelloy C-4, Hastelloy X, Hastelloy B, Hastelloy N, Hastelloy G

Molybdenum

ASTM / ASME A 182 GR F 5, F 9 , F 11 , F 12 , F 22 , F 91, ASTM B387, Ferro Molybdenum

Cobalt

Cobalt HS-6, Cobalt HS-4, Cobalt HS-25, Sterlite Grade 1, Sterlite Grade 6, Sterlite Grade 12, Sterlite Grade 21

Niobium

ASTM B394, R04200 R04210

Nimonic

Nimonic75, Nimonic80, Nimonic85, Nimonic90, Nimonic263, etc

Tungsten

W1 WAl1, W61, etc, Carbonide Tungsten, Copper Tungsten, Nickel Tungsten

Nichrome

Nichrome90, Nichrome80, Nichrome80A, Nichrome RW80, Nichrome75, etc

Magnesium

Magnesium AL017100, AL017140, AL017150, AL017160, AL017200, AL017210, AL017250, etc.

Tantalum

Tantalum – Grade 1.

Monel

Monel 400, Monel k500

MU-METAL

MU-METAL

Zirconium

Zirconium 702, Zirconium 705,Zirconium 705, Zirconium-2, Zirconium-4

Beryllium Copper

Alloy 25 UNSC17200

Aluminium

1050,1100, 2017, 7150, 7178, 7575, 2050, 7085, 2011 A92011, 2014A A92014, 2024 A92024, 2219, 5052 A95052, 5083 A95083, 5754, 6061 A96061 A86061, 6063, 6082 A96082, 7071 7020, 7050 A97050, 7075 A97075 A87075, 7175

Copper Alloys

C 11000, C 10200, C 12200, C 51100, C 51000, C 51900, C 52000, C 52100, C 74500, C 75700, C 75400, C 76400, C 77000, C 21000, C 22000, C 23000, C 24000, C 26000, C 26800, C 27000, C 27200, C 28000
Mild Steel Vs. High Tensile: A Comparative Insight
Mild steel has always been popular for its versatility and affordability among the various grades and types of steel. It's relatively easy to work with, making it an industry favourite. However, high tensile steel is preferred for projects demanding more strength and durability. These grades have unique properties, making them indispensable in their own right.
Welded Pipe Vs. Seamless Steel Pipe: The Everlasting Debate
The debate between welded pipe and seamless steel pipe is inevitable when discussing pipe and tube manufacturing. While welded pipes are created by joining two steel plates at the seam, seamless tubes are manufactured in a single, continuous extrusion of steel. This gives seamless steel pipes an edge in terms of strength and uniformity.
The carbon steel seamless pipes stand out due to their high resistance to pressure, making them ideal for high-stress applications. The cold drawn process further refines these pipes, ensuring tight tolerances and improved surface finish.
Why Choose Tube Manufacturers in India?
One might wonder about the distinguishing factors of the sheer number of tube manufacturers in India. Indian manufacturers are known for their commitment to quality and competitive pricing. The processes they employ, whether for welded or seamless pipes, are at par with international standards.
Manufacturers' use of both mild steel and high tensile steel ensures a wide range of products for varied applications. Whether a small domestic requirement or a large-scale industrial project, the versatility of steel pipes and tubes manufacturers in India is unmatched.
Seamless Pipe Manufacturer in India
We are leading Manufacturers, Supplier, Dealers, and Exporter of Seamless Pipes in India. Our Seamless Pipes are available in different sizes, shapes, and grades. We supply these Pipes in most of the major Indian cities in more than 20 States.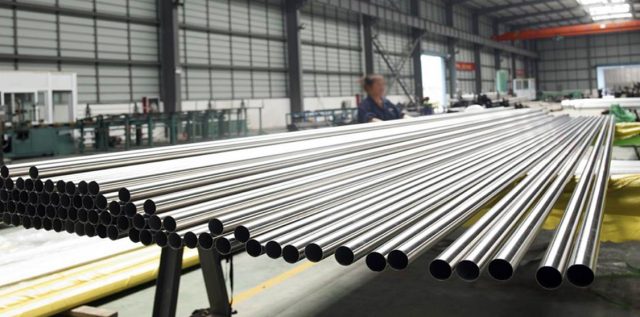 Pipes according to ASTM A312
Grade

C

Mn

P

S

Si

Cr

Ni

Mo

TP 304

0.08

2.0

0.045

0.030

1.0

18.0-20.0

8.0-11.0

TP 304L

0.035

2.0

0.045

0.030

1.0

18.0-20.0

8.0-13.0

TP 316L

0.035

2.0

0.045

0.030

1.0

16.0-18.0

10.0-14.0

2.0-3.0

Note:




For small diameter or thin walls or both, where many drawing passes are required, a Carbon maximum of 0.040% is necessary in grades TP 304L and TP 316L. Small outside diameter tubes are defined as those less than 0.50 in. [12.7 mm] in outside diameter and light wall tubes as those less than 0.049 in. [1.20 mm] in average wall thickness (0.044 in. [1.10 mm] in minimum wall thickness).
Seamless Pipes may be furnished bare or coated and with capped ends. pipes up to 3" OD will be supplied in bundles. In order to prevent rust during sea shipment, bundles of Seamless Pipes may be wrapped with polypropylene sheets, and secured with flat steel bands. Over 3" OD will be supplied loose.
Application Industries
Off-Shore Oil Drilling Companies
Power Generation
Petrochemicals
Gas Processing
Specialty Chemicals
Pharmaceuticals
Pharmaceutical Equipment
Chemical Equipment
Sea Water Equipment
Heat Exchangers
Condensers
Pulp and Paper Industry
Test Certificates
We at Sachiya Steel International provide Manufacturer TC (Test Certificate) in accordance to EN 10204/3.1B, Raw Materials Certificate, 100% Radiography Test Report, Third Party Inspection Report. We also provide Standard certificates like EN 10204 3.1 and additional requirement like. NACE MR 01075. FERRIT CONTENT as per norms if requested by clients.
EN 10204/3.1B
Raw Materials Certificate
100% Radiography Test Report
Third Party Inspection Report, etc
Material Testing
We at Sachiya Steel International ensure that all our materials go through strict quality tests before dispatching them to our clients.
Mechanical Testing Such as Tensile of Area
Hardness Test
Chemical Analysis – Spectro Analysis
Positive Material Identification – PMI Testing
Flattening Test
Micro and Macro Test
Pitting Resistance Test
Flaring Test
Intergranular Corrosion (IGC) Test
Documentation
Commercial Invoice which includes HS Code
Packing List including net weight and gross weight, number of boxes, Marks and Numbers
Certificate of Origin legalized/attested by Chamber of Commerce or Embassy
Fumigation Certificates
Raw Material Test Reports
Material Traceability Records
Quality Assurance Plan (QAP)
Heat Treatment Charts
Test Certificates certifying NACE MR0103, NACE MR0175
Material Test Certificates (MTC) as per EN 10204 3.1 and EN 10204 3.2
Guarantee Letter
NABL approved Laboratory Test Reports
Welding Procedure Specification/Procedure Qualification Record, WPS/PQR
Form A for the purposes of the Generalized System of Preferences (GSP)
Country's We Export
Venezuela, Iraq, United Kingdom, Russia, United Arab Emirates, Croatia, Indonesia, Oman, Kazakhstan, Israel, Kenya, Iran, Bahrain, Bhutan, Colombia, Serbia, Pakistan, Czech Republic, Turkey, Ukraine, Poland, Bulgaria, France, Chile, Slovakia, Belgium, Iran, Ireland, Qatar, Sri Lanka, Sweden, Brazil, Bolivia, Taiwan, Jordan, South Africa, Switzerland, Tibet, Norway, India, Ghana, Costa Rica, Hungary, New Zealand, Vietnam, Ecuador, Afghanistan, Algeria, Peru, Netherlands, Argentina, Austria, Malaysia, Thailand, Portugal, Zimbabwe, Mongolia, Lebanon, Trinidad & Tobago, Tunisia, Mexico, Greece, Angola, Hong Kong, Denmark, Nepal, Finland, Chile, Poland, Yemen, Nigeria, Italy, Bangladesh, Australia, Macau, Azerbaijan, Saudi Arabia, Japan, Gabon, Philippines, Singapore, United States, Namibia, Romania, South Korea, Germany, Puerto Rico, Estonia, Morocco, Belarus, Nigeria, Mexico, Spain, China, Canada, Libya, Lithuania, Kuwait, Gambia, Egypt.
Frequently Asked Questions (FAQ)
What is the significance of seamless pipe and tube manufacturers in India?
Seamless pipe and tube manufacturers in India play a crucial role in supplying high-quality steel pipes and tubes that are integral to various industries' infrastructure and operations.
How are seamless pipes different from welded pipes?
Seamless pipes are manufactured through a continuous extrusion process, resulting in a single piece without any welded seams. Welded pipes, on the other hand, are made by joining two steel plates at the seam.
What are the advantages of seamless pipes over welded pipes?
Seamless pipes are known for their superior strength, uniformity, and resistance to pressure. The absence of welded seams enhances their durability and reliability, making them ideal for high-stress applications.
Why is India a prominent hub for seamless tube manufacturers?
India boasts a vibrant steel industry with advanced technological capabilities. Seamless tube manufacturers in India are known for their commitment to quality, competitive pricing, and adherence to international standards.
What types of steel are commonly used by seamless pipe manufacturers in India?
Seamless pipe manufacturers in India utilize various grades of steel, including stainless steel, mild steel, and high tensile steel, to cater to a wide range of applications and requirements.
How do stainless steel seamless pipe manufacturers contribute to the industry?
Stainless steel seamless pipe manufacturers in India offer corrosion-resistant and durable solutions, making them essential for applications in environments where rust and corrosion are concerns.
Are there specific industries that benefit from seamless pipes and tubes?
Yes, a diverse range of industries benefits from seamless pipes and tubes, including oil and gas, construction, automotive, manufacturing, and infrastructure development.
What distinguishes Indian seamless tube manufacturers from others?
Indian seamless tube manufacturers stand out due to their dedication to quality, competitive pricing, and adherence to global manufacturing standards, ensuring reliable and top-notch products.
How can I ensure the quality of seamless pipes and tubes from Indian manufacturers?
To ensure quality, look for manufacturers with certifications such as ISO standards. Additionally, reviews, reputation, and industry experience are indicators of reliable manufacturers.
Can I find a variety of seamless pipes and tubes from Indian manufacturers?
Absolutely. Indian manufacturers produce a wide range of seamless pipes and tubes to cater to diverse applications, offering options like stainless steel, mild steel, and more.