Sachiya Steel International is a key supplier and trader of Super Duplex SAF 2507 Tubes. We believe in supplying high-quality products to esteemed clients and build lasting partnerships. We have been a part of this steel industry for years. It is a super duplex category of the tube which can be austenitic and ferrite. The major constituents are Chromium, Nickel & Molybdenum. Super Duplex SAF 2507 Tubes is known for delivering excellent resistance to stress corrosion cracking in chloride and sulfur environments. In addition to that, it works well under pitting and crevice conditions. ASTM G48 is the most stringent test these tubes go through. The presence of a high amount of carbon leads to a shiny outer surface finish.
Super Duplex SAF 2507 Tubes Manufacture 
[/bt_text][/bt_column][/bt_row][bt_row][bt_column width="1/1″][bt_text]
Super Duplex SAF 2507 Tubes are known for their high level of mechanical strength. In addition to that, it is quite resistant to erosion and fatigue. Super Duplex SAF 2507 Tubes is exceedingly suitable for welding and forming. These tubes are available in several varieties like seamless, ERW, and EFW. These are used for long-distance travel of substance by longitudinal welding. Super Duplex SAF 2507 Tubes is extremely resistant to the effect of saltwater and freshwater. In addition to that, it is potent to withstand acidic substances. These tubes are used are well used in oil and gas exploration and production, seawater cooling, evaporator tubing for production of corrosive salts, desalinization units, the heat exchanger in geothermal exploitation units, pulp and paper processing, etc. due to its high mechanical strength it is used in propeller shafts. Its resistance to sulfur makes it a perfect choice for desulfurization plants.
[/bt_text][/bt_column][/bt_row][bt_row][bt_column width="1/1″][bt_text]
Specifications : ASTM /ASME A789/SA789
Dimensions : ASTM, ASME and API
Schedule : SCH 10, SCH20, SCH30, SCH40, STD, SCH60, XS, SCH80, SCH120, SCH140, SCH160, XXS
Wall Thickness : Schedule 5S – Schedule XXS.
Size : 1/2″ NB – 24″ NB
Length : Single Random, Double Random & Cut Length.
Form : Round, Square, Rectangular, Hydraulic etc
End : Plain End, Beveled End, Treaded
[/bt_text][/bt_column][/bt_row][bt_row][bt_column width="1/1″][bt_text]
| | | |
| --- | --- | --- |
| STANDARD | WERKSTOFF NR. | UNS |
| Super Duplex 2507 | 1.4410 | S32750 |
| | | | | | | | | | | |
| --- | --- | --- | --- | --- | --- | --- | --- | --- | --- | --- |
| Grade | C | Mn | Si | P | S | Cr | Mo | Ni | N | Fe |
| 2507 | 0.030 max | 1.20 max | 0.80 max | 0.035 max | 0.020 max | 24.00 – 26.00 | 3.00 – 5.00 | 6.00 – 8.00 | 0.24 – 0.32 | 58.095 min |
| | | | | |
| --- | --- | --- | --- | --- |
| Grades | Density (g/cm 3) | Density (lb/in 3) | Melting Point (°C) | Melting Point (°F) |
| 2507 | 7.8 | 0.281 | 1350 | 2460 |
| | | | | | |
| --- | --- | --- | --- | --- | --- |
| NB SIZES | SCH 5 | SCH 10 | SCH 40 | SCH 80 | SCH 160 |
| 1/8″ | Yes | Yes | Yes | Yes | |
| 1/4″ | Yes | Yes | Yes | Yes | |
| 3/8″ | Yes | Yes | Yes | Yes | |
| 1/2″ | Yes | Yes | Yes | Yes | Yes |
| 3/4″ | Yes | Yes | Yes | Yes | Yes |
| 1″ | Yes | Yes | Yes | Yes | Yes |
| 1 1/4″ | Yes | Yes | Yes | Yes | Yes |
| 1 1/2″ | Yes | Yes | Yes | Yes | Yes |
| 2″ | Yes | Yes | Yes | Yes | Yes |
| 2 1/2″ | Yes | Yes | Yes | Yes | Yes |
| 3″ | Yes | Yes | Yes | Yes | Yes |
| 4″ | Yes | Yes | Yes | Yes | Yes |
| 5″ | Yes | Yes | Yes | Yes | |
| 6″ | Yes | Yes | Yes | Yes | |
[/bt_text][/bt_column][/bt_row][bt_row][bt_column width="1/1″][bt_text]
Super Duplex SAF 2507 Tubes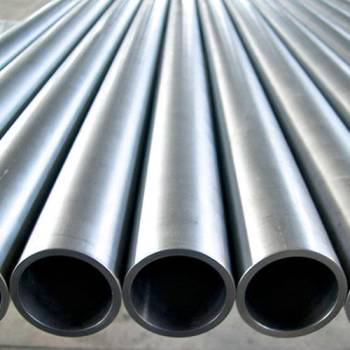 Sachiya Steel International is a key supplier and trader of Super Duplex SAF 2507 Tubes. We believe in supplying high-quality products
Product Brand: Sachiya Steel International
Product In-Stock: InStock
[/bt_text][/bt_column][/bt_row][/bt_section]